about us
Welcome to MUSRAFY SIBERIANS
Musrafy is an stablished and award winning breeding Cattery situated in a picturesque Chilterns village near Henley-on-Thames, South Oxfordshire.
The cattery is registered with GCCF and TICA.
I breed for temperament, health and conformation and participate at cat shows both in the UK and Europe to ensure that I breed cats of the correct type and a friendly temperament. Please view my Hall of Fame to see some of my cats achievements.
l am of Russian origin and have been residing in the UK since 1997.
I have always had an interest in animals and studied both Biology and Genetics.
Having originally been a breeder of Birmans, I then became involved in introducing Siberians to the UK in 2003.
I am currently one of the few remaining original Siberian breeders and breed from Russian lines only.
I regularly import new cats from Russia to add diversity to the gene pool.
The advantage of my mother tongue and frequent trips to Russia enable me to select the best kittens for my breeding programme.
Musrafy cattery has been inspected by a licensed Veterinarian and awarded THE OUTSTANDING CATTERY certificate by the International Cat Association and was rated EXCELLENT according to the Responsible Breeder Programme.
My cats have been tested for FIV, FeLV, PKD1, PKDef, HCM and vaccinated against feline panleukopenia and feline leukaemia, and against respiratory diseases caused by feline rhinotracheitis virus, feline calicivirus and feline Chlamydophila felis (FPV/FCV/FVR/Chlam/FeLV).
Copies of vaccination cards and test results are available to kitten owners on request.
All kittens are brought up with lots of love and affection resulting in friendly and outgoing temperaments.
Please visit my Youtube channel to see videos of my cats and to learn more on cat and kitten care.
Maria.

the breed
The Siberian is a medium to large, heavy built cat with broad chest, barrel shaped body, very dense (particularly in the winter) semi-longhaired coat and a wonderful friendly temperament.
The breed originated in Eastern Europe and is thought to be an outcome of matings between longhaired cats from the Central Asia and European Wild and domestic cats.
Initially referred to as Bukhara Cat, these felines found popularity among travelling traders for their rodent control abilities and spread across Russia and into Siberia. The Siberian name was adopted as it felt appropriate to describe their dense weather proof coat. Matings between domestic/Siberian and wild
Amur cats do occasionally take place in the Far-East region of Siberia where deep snow in the winter
forces the Amur cat to seek refuge on the outskirts of villages.
The characteristic feature of the Siberian cat is its dense triple coat, with very thick undercoat, awn hairs and longer, protruding and harsh in texture guard hairs. The undercoat protects the cat from freezing winter temperatures and guard hairs along its body help rain run down. Thick paws with fluffy pads, tufts and lynx tips onthe ears are only a few of the features from their natural/wild background.
Siberian cats come in a wide range of colours and patterns, and fall under two general categories: Colourpoint (Neva Masquerade) with Blue eyes and Traditional (any other colour) with green/yellow eyes. A Siberian's coat rarely knots due to its harsh texture and does not require as much grooming as some other long haired breeds. Siberians have a wonderful nature and make ideal household pets. They are friendly and affectionate towards their owners, intelligent and not disruptive. They easily mix with other breeds of cats and dogs. Despite on being heavy, Siberians are rather agile and will prove to be excellent hunters if they have access to outside.
TICA breed description GCCF breed description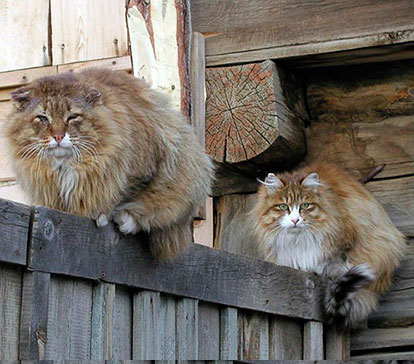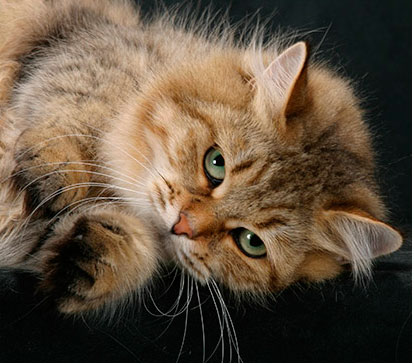 ALLERGY TESTING
Due to the strict hygiene rules and to ensure that my cats and kittens are in perfect health, I am unable to offer allergy testing sessions. A few friends of mine, however, kindly offer allergy testing sessions and advice on my behalf.
Most of them are allergic to cats but happily live with Siberians bred by me. Please contact them directly to arrange a sitting:
kittens
MUSRAFY SIBERIAN kittens, both show prospects and pets, are placed in carefully selected homes.
Whilst I appreciate email interest generated by this site, I would prefer to speak personally on the phone to those interested in becoming an owner of a Musrafy Siberi
I breed very selectively to produce the next generation of beautiful and affectionate companions as well as show cats. I breed only from Russian lines for unique looks, health, conformation and temperament.
Kittens leave me at 13-14 weeks of age, well socialised, fully weaned and litter trained, registered, microchipped, vaccinated, neutered, wormed, flea treated and insured for 5 weeks with Agria. All new owners will be required to sign purchase/transfer of responsibility agreement.
New owners must take all reasonable steps to ensure that they meet the following needs that their cat has, which are set out in the Animal Welfare Act 2006. as follows:
- The need for a suitable environment
- The need for a suitable diet
- The need to be able to exhibit normal behaviour pattern
- The need to be protected from pain, suffering, injury or disease.
Code of practice for the welfare of Cats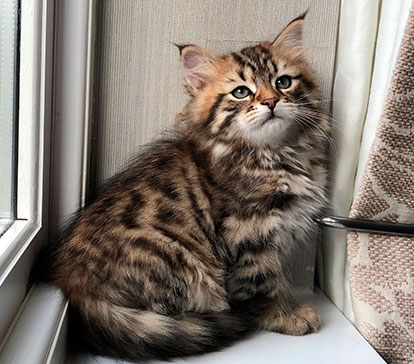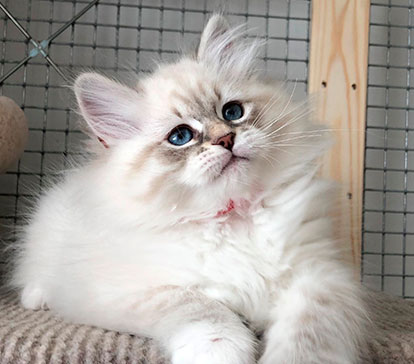 I offer lifelong help and advice on cat/kitten care.
Please note that due to the strict hygiene rules, and to ensure that my cats and kittens are in perfect health, I do not allow visits and/or handling prior to collection. All allergy tests/sittings are performed by my friends who are allergic themselves.
Please contact them directly to arrange a siting:
For information about Musrafy Siberian kittens and availability contact me on 07932 035429 or email mariabunina@aol.com
Our cats- males
Musrafy Hamish

Brown Spotted Tabby & White

D.O.B. 07.11.18

PKD1/PKDef, HCM, FIV/FeLV - Normal -2021

Musrafy Shadowfax

Brown Spotted Tabby & White

D.O.B. 22.03.2018

FIV/FeLV, PKD1/PKDef, HCM - NORMAL - 2021

Orion Snejnaya Zima

Blue Point

D.O.B. 20.12.2018

FIV/FeLV, PKD1/PKDef, HCM - NORMAL - 2021
Our cats- females
hall of fame
featuring some of our many Stars........
contact us
Musrafy Siberian Kittens
We use this list to email all interested families whenever we have beautiful Siberian kittens available for reservation. Kittens are usually 7-9 weeks old when we email.
Please fill out all fields if you are a new inquiry. If you have previously emailed the answers to these questions then there is no need to complete them here.
If you find a kitten elsewhere please unsubscribe.